Enjoy a delicious brunch !

50m from the Bon Secours beach

A very nice wine cellar
in the heart of the Corsair city
Bar of the Porte Saint-Pierre
Amateur of good wine or holiday-makers in good time searchs, come discover the peaceful atmosphere within the Saint Pierre's bar which reigns, framed by conviviality. Let the calm of the corsaire city of Saint-Malo and wave's noices take you. Book a sea view room in our hotel next door.
For the hungry, we are inviting you too to taste one of our brunchs for a pleasant moment and a recall with our british neighbours.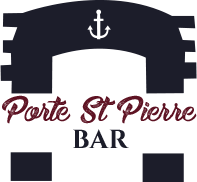 Bar
Porte Saint Pierre
2 place du Guet
35400 Saint-Malo
Phone : 02 99 40 91 27